Wedding season is officially upon us! However, planning the most important day of your life can be both exciting and overwhelming. That's why we have put together this list of the dreamiest Scottish Wedding Venues that will guarantee to make a show-stopping impact and capturing the hearts of both you, all important mother of the bride and groom and your guests.
1 – Carlowrie Castle
Situated right on the doorstep of Edinburgh lies, Carlowrie Castle. This superb venue is nestled among 32 acres of stunning gardens and ancient woodlands. The castle currently offers exclusive-use for private and formal events making it a popular choice for weddings. The panoramic garden views from the properties Orangery provides the perfect backdrop for wedding photos, while guests can experience a luxury mix of contemporary modern and traditional design. This venue seats up to 100 people, although for larger parties a marquee can be erected which will accommodate for up to 450 guests. This fantastic location will definitely add a spark of fairy-tale romance to your big day.
2 – Broxmouth Park
This stately mansion located in East Lothian offers exclusive access for weddings and formal parties. This picturesque venue creates an authentic feeling of luxury Scottish class and is set amongst 150 acres of private parkland. You and your guests will have sole access to the place and its surrounding gardens so that you can unwind and enjoy privacy on your special day. Few other exclusive wedding venues offer a real sense of a luxury Scottish country mansion as Broxmouth Park does. The venue also hosts accommodation for your guests, so there is no need for you to have to provide options for their stay. This elegant stately home is a prestigious location and the ultimate example of Scottish luxury.
3 – Dundas Castle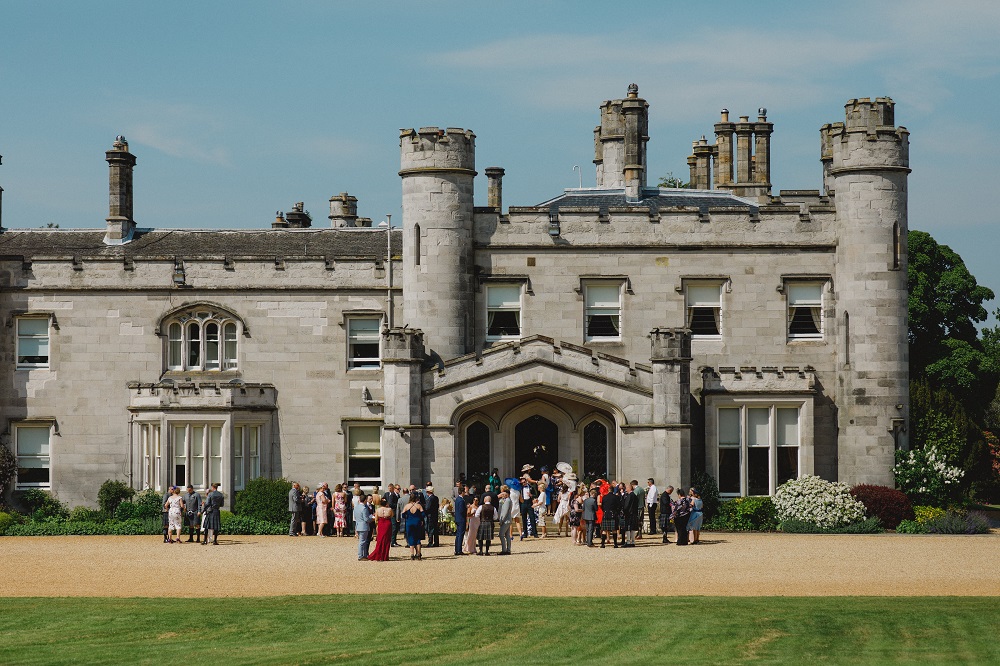 Dundas Castle is a 15th-century castle situated in the Dalmeny parish of West Lothian and winner of the VOWS 2018 Best Venue in Scotland Award. This historic castle is one of the top five-star exclusive use venues in Great Britain and is located close to the famous city of Edinburgh. The venue offers exclusive access to weddings and other formal or corporate events and is sure to make a jaw-dropping impact on guests. Dundas Castle is the perfect location to fulfil that fairy-tale wedding dream you have always longed for and with a 400-acre estate makes for the ideal backdrop for those wedding photos.
4 – The National Museums of Scotland
Fancy something a little different? The National Museums of Scotland is a fantastic alternative for those who wish for something a little less traditional. Choose from the unique surrounds of the National Museum of Scotland, National Museum of Flight or the National Museum of Rural Life. All locations cater for up to 500 guests and feature beautiful galleries, private rooms and can accommodate even the most significant scale weddings. The museum's dedicated events team have been praised for their perfect service and impeccable efforts to make your wedding dreams come true. Relax as the team support you through your wedding planning journey and manage everything on the day. It's no wonder that this unconventional choice of venue is becoming increasingly popular amongst brides and grooms.
5 – Forbes of Kingennie Country Resort
Forbes of Kingennie Country Resort is a perfect choice amongst couples wishing for a low key, private wedding venue. This relaxing retreat is only a short drive away from the Broughty Ferry area of Dundee and features breath-taking views along with its waterside location. This dreamy venue is both romantic and peaceful, holding weddings from as little as 25 people or up to the maximum capacity of 150. This exclusive location is licensed to hold civil ceremonies both inside the lodge or in the surrounding grounds. If you desire a more intimate wedding with your nearest and dearest, then Forbes of Kingennie Country Resort could be the perfect option for you.
Nowhere else is quite like Loch Lomond Waterfront. Offering exclusive hire for your special day overlooking the stunning banks of Loch Lomond, this venue is one that will definitely wow your friends and family. Enjoy the tranquil surroundings of this picturesque location that hosts intimate ceremonies or grand affairs. Featuring 18 acres of the private Lochside land for you and your guests to enjoy, this venue makes for the perfect Scottish lakeside retreat. This location is a fantastic option for couples seeking an ideal hideaway and to escape the hustle and bustle of everyday life. 
Eilean Donan is nestled within the Scottish Highland area, where the sea meets the loch and is the perfect location for an authentic Scottish wedding. This picturesque location is the definition of a 'Highland Fairy-tale' and is a beautiful choice for your special day. Film enthusiasts might recognise this popular location as a setting for many famous movies such as Highlander and the James Bond movie, Skyfall. The wedding and events team will handle all of the organisation for you so that you get to immerse yourself in your special day fully. You and your guests will receive complete exclusivity to the interior areas of the castle and inner courtyard, where you can enjoy magnificent views making for an unforgettable day.
The Kenmore Hotel sits overlooking the beautiful landscapes and uninterrupted views of the River Tay. This ambient location offers stunning surroundings and elegant settings which make your special day relaxing and romantic. Enjoy exclusive access and indulge in an exceptional dining experience where award-winning chefs produce the most exquisite catering using locally sourced produce.  Perhaps you wish to have a church ceremony, which is just a stone's throw away from the venue itself. You will receive your very own wedding executive who will be by your side throughout the entire wedding planning process, to provide information, guidance and advice during every step of the way. This truly magnificent location is an exceptional backdrop for a magical, romantic celebration.