So, you have set a date. Congratulations! Now it's time to get to work and start deciding on colour themes and decor styles. Choosing a wedding theme can sometimes seem quite challenging and often, coming up with creative new ideas is a little tricky. Today we have put together a list of some of the best Wedding Themes of 2019, which may give you some original ideas that will be sure to impress your guests and even the mother of the bride!
1- Rustic Wedding Theme
Think burlap, lots of wood, hand-made table decorations and lots of greenery. Rustic wedding themes are one of the most popular choices amongst brides and grooms today, and for a good reason! This timeless trend creates a romantic atmosphere and is an affordable way to add charm and character to your wedding. Encouraging DIY-ers to get creative by making personalised wedding favours and table decorations such as mason jars filled with fairy lights and bouquets of wild garden flowers.
2 – Travel / Adventure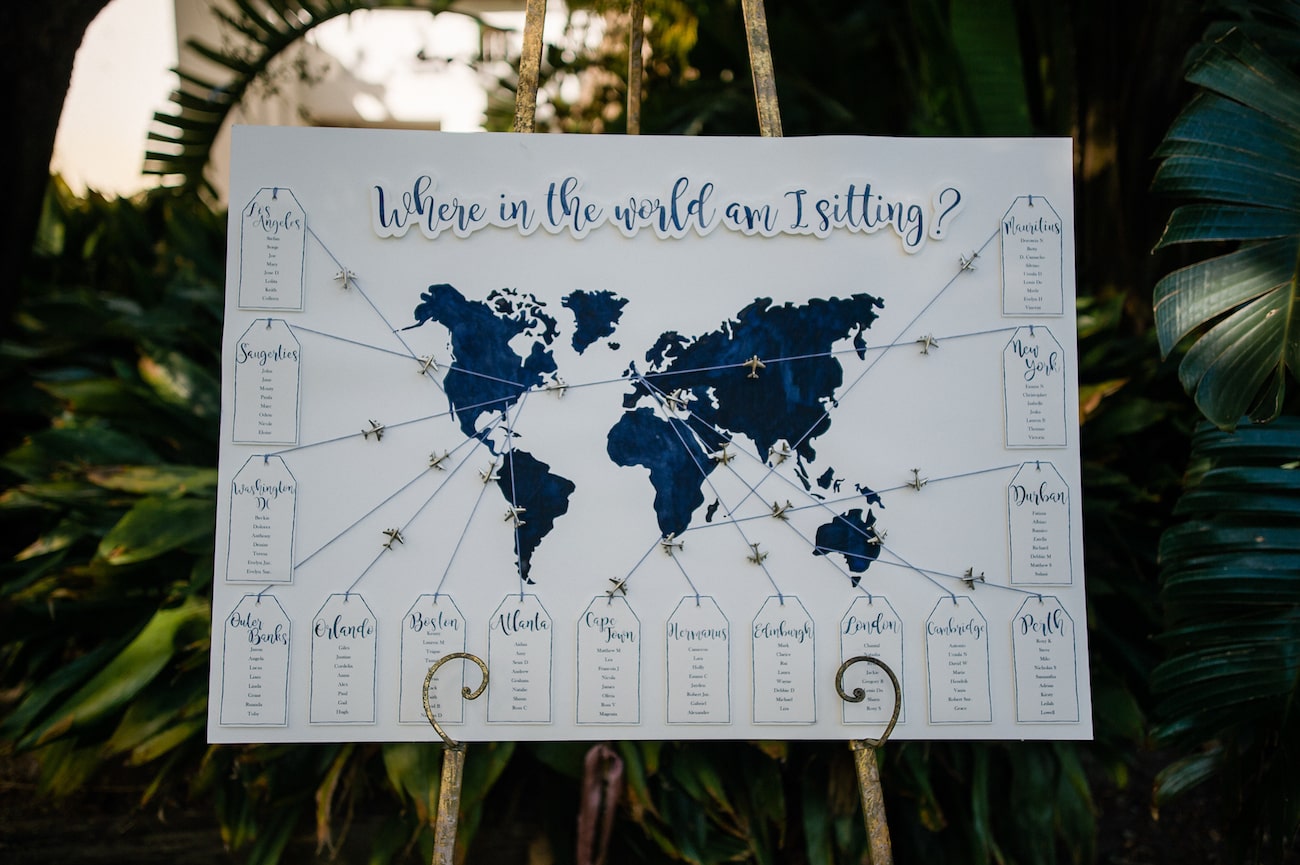 For the keen couple who enjoys spending their time exploring different parts of the world. A travel theme could be the perfect idea to represent everything you both enjoy and share your experiences and memories with your guests. After all, this day is about you both! So, share those snaps of your travels, perhaps scatter vacation photos across the tables, or even name the tables after different countries. This theme is also an excellent idea for couples who have a mixed family heritage as you get to incorporate an element or tradition from each of your backgrounds.
3 – Ocean Lover
A nautical theme is a perfect addition to any waterside or beach ceremony. Dreamy blue and white tones, including striped patterns paired with shells, driftwood and rope make for a unique wedding decor theme. You can even collect sand and fill small mason jars to create table decorations or write guests messages in a bottle. This idea is not only individual but completely affordable! So, get to the nearest beach and begin collecting driftwood and shells to inject the natural ocean theme into your special day.
4 – Great Gatsby Class
An art deco wedding theme is not only bold and lavish but is bound to attract attention and leave a lasting impression on your guests. It's all about glitz, glamour and incorporating the use of gold tones and mirrors along with geometric patterns. Add a touch of vintage jazz to create an exciting atmosphere that will get the celebrations in full swing! This theme can be made as modern or as vintage as you like, it's all about having fun and encouraging guests to get the party started.
5 – Music
For music lovers, what better theme to choose for the biggest party of your life than your passion? A music theme is a great choice and is easy to create with props such as vintage microphones, manuscript paper and even a live band if you so wish. This theme is guaranteed to get everyone up and dancing, with plenty of your favourite songs and genres. You don't have to restrict yourself to a specific colour scheme either. This theme is all about the small details and finishing touches.
6 – Casual Dinner Party
Who said a wedding has to be formal? Why not have a more relaxed atmosphere with al-fresco dining? Create a comfortable, casual space where guests can unwind and join in the celebrations of what this gathering is really about. Ditch the grand fiascos and create a calm, outdoor dinner party with relaxing music, good company and great food! You can always add unique table decors such as beautiful tableware and wedding favours, accompanied by candles and subtle floral accents.
7 – Monochrome
Three colours. Black, white and grey. A monochrome wedding theme is not only classy but also guaranteed to make a statement. This theme is great for winter weddings, although it can be used all year round no matter what venue you choose. Keeping everything black and white attracts attention and ties in with vintage glamour, old Hollywood and breakfast at Tiffany's theme. You can even ask guests to dress following your chosen colour scheme, for example; black tie formal.
8 – Woodland Wonder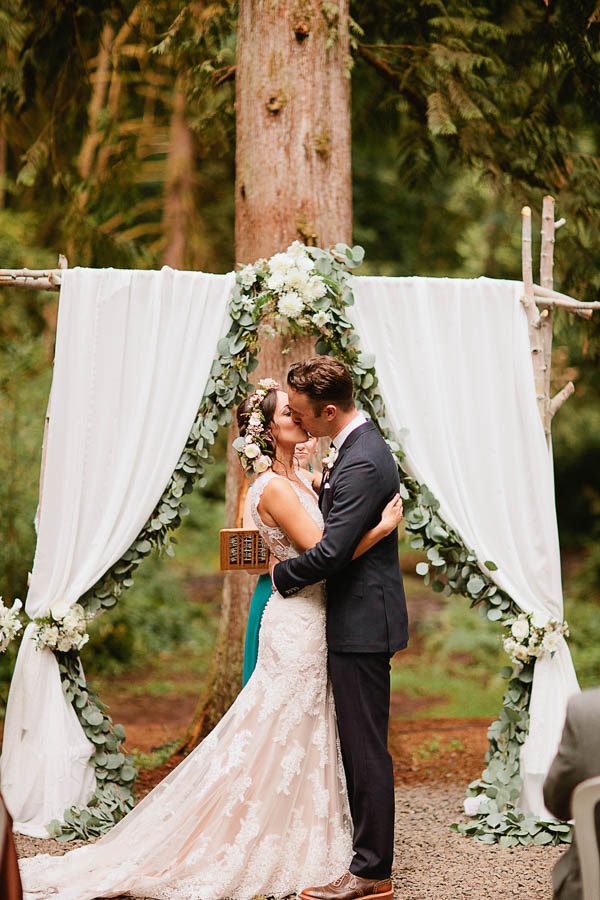 Very similar to rustic, a woodland theme wedding makes an extra special, memorable event: outdoor ceremonies, bohemian dresses, floral headpieces with the use of lots and lots of fairy lights. What's not to love? Light the aisle up with candles, provide wooden benches for guests to sit at and keep all of your flowers white with dense green foliage. Speaking of bouquets, opt for messy, non-uniform wildflower choices as this will tie in with the outdoorsy, natural atmosphere. This unique theme is guaranteed to leave a lasting impression that your friends and family will be discussing for years to come!
9 – Fairy-tale Elegance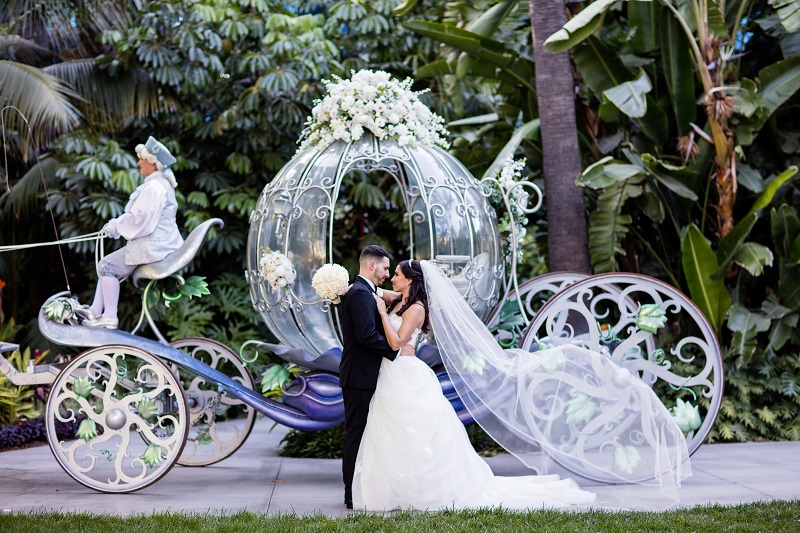 Of course, when we mention a fairy-tale wedding, the first thing that comes to mind is a castle. However, you don't need to have a castle, and the hefty price tag that comes with it, to achieve a fairy-tale wedding theme. One of the easiest ways to achieve a fairy-tale wedding theme is by incorporating the use of romantic, classic designs and calligraphy for table decorations and wedding stationery. Fill your tables with stunning floral centrepieces and romantic candelabras. If you're feeling extravagant, why not splash on a horse and carriage for the bride and groom to feel like a real-life prince and princess on your special day.
10 – Night at The Movies
For one night only! Movie lovers can have so much fun designing a film themed wedding that represents everything they love. A few creative ideas when it comes to achieving a movie-themed wedding is naming each guest table after your favourite movie, send invitations designed to resemble theatre tickets and give novelty wedding favours. Hang your favourite movie quotes on plaques around the venue, or why not treat your guests to a popcorn stand and hotdogs for later in the evening? There are so many unique decor pieces you can incorporate to create a beautiful movie theme.